After posting pictures of this tasty stew on Instagram and Facebook, a few of you were asking me for the recipe, so here it is!  I created this out of a craving to have some beef stew, and I thought, well I've got some okra in the freezer, so maybe that would taste pretty good.  I went to the store to find a spice that would work well with those ingredients, and found harissa spice.  I'd only ever used the harissa paste/oily concoction, and I imagine that would substitute fine here if you can't find the spice combo.  If you've never used harissa, you need to try it!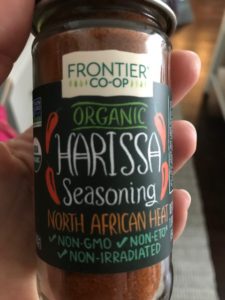 This is the harissa spice mix that I used.  It contains: Paprika, Caraway, Crushed Red Chili Pepper, Cayenne, Coriander, Cumin, Garlic, Peppermint, and Sea Salt.  So in theory, you could try to recreate that if you can't find any kind of harissa in your grocery store, but I think I'd personally maybe just use the paprika, a little cayenne or some of your favorite hot sauce, a touch of cumin, and a little garlic.  I think the other ingredients don't really stand out anyway.
I actually only wanted a little spice for this soup, and so I used around a 1/2 tbsp of the spice, but if you like it spicy, then you'd just add more.  I wanted to make sure my daughter might eat a little of it (it ended up being a moderate hit but nothing to write home about for her, but my husband and I really liked it so hey, more for us!), and you know, not mess up our digestive systems either.
Anyway, I dare say this soup was better the day after I made it, but it was good both days we ate it (it only lasted 2 days in our house).  It's simple, because hey, after working a full day, I'm not really into slaving over the stove.  Let's get real.  I want stuff I can throw together with minimal effort.  Here goes, I hope you enjoy!
Beef and Okra Stew
Makes 6 servings
Prep time: 2 mins (add about 5 mins if using fresh okra that needs to be cut)
Cook time: 30 mins
Ingredients:
1 lb beef stew meat
10 oz frozen okra (fresh is fine as well; I used Woodstock Farms frozen sliced okra)
32 oz beef stock
15 oz tomato sauce
1/4 medium yellow onion, cut in bigger chunks and separated
1/2 tbsp harissa seasoning (use more if you want it spicy)
1 tbsp olive oil
salt and pepper to season
Directions:
Cut the onion into larger chunks and separate out each piece so they will cook easily.  In a large Dutch oven, on medium-high heat, add the olive oil, okra, and onions.  Add a little salt and pepper.  Saute for 3-4 mins.  While these are sauteing, then cut any pieces of beef that are on the larger side.  They should be chunks, but not so big you would have to cut them to eat them in the soup.  Add the harissa seasoning, and saute for another couple minutes.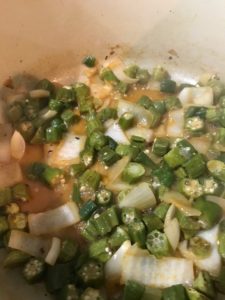 Push the veggies to the side, and place the meat chunks in the middle of the pot.  Add salt and pepper to season the meat.  Brown the meat on all sides, but do not fully cook the meat.  Remove the meat and put it on a plate to rest while you prepare the rest of the soup.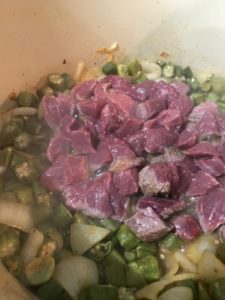 Add the stock and tomato sauce, and stir.  Bring the heat down to a medium heat, or to a low boil.  Do not cover.  You want some of the liquid to boil off so the soup thickens.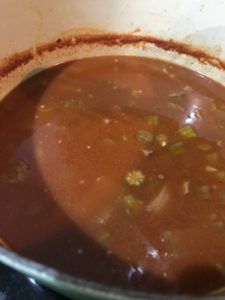 After about 15 mins, then add the beef back in.  Cook for another 5-7 mins.  Enjoy!
Tip: Want it vegan?  Obviously remove the beef and switch out the beef stock for veggie, but consider adding cauliflower, tofu, mushrooms, eggplant, beans, lentils, spinach…the sky's the limit!  This base of stock plus tomato sauce has served me well over the years and I've made many kinds of soups with it.  So feel free to get creative! 🙂
P.S. Forgive the slightly fuzzy pics in this…I was snapping with my camera as I was taking them and the steam and lighting were making things a little tricky…but you at least get the idea!